Industrial activated carbon water filter cartridge
Material : activated carbon Structure : End cover plus skeleton and filter layer Application : industry. include: pure water, electroplating line, printed circuit board, coating, solvents, detergent, medicine water, oral liquid, pharmaceutical injection, beverage, wine .etc Function : It can effecti
We're here to help
Easy ways to get the answers you need. Contact
Features
Technical Data
Application
Technical parameters
Iodine adsorption value : 900 mg/g

Benzene adsorption value : 20-25 %

Methylene blue adsorption values : 13-16 ml/g

Removal rate of COD : 58.25 %

Residual chlorine removal rate : more than 96.83 %
Name

Model

Length(inch)

Micron rating (um)

OD (mm)

ID (mm)

Form of port

Working temperature(°C)

Nominal pressure (MPa)

Pressure loss (MPa)

Initial

Max

Activated carbon filter element

HTLX-*×10

10

20

30

40

1-10

65

30

Insert type , flat sub type

60

0.7

No more than 0.1

0.4

HTLX-*×20

HTLX-*×30

HTLX-*×40
Material: activated carbon
Structure: End cover plus skeleton and filter layer
Application: industry. include: pure water, electroplating line, printed circuit board, coating, solvents, detergent, medicine water, oral liquid, pharmaceutical injection, beverage, wine .etc
Function: It can effective move organic matter in liquid , particulate , rust , residual chlorine , peculiar smell . etc .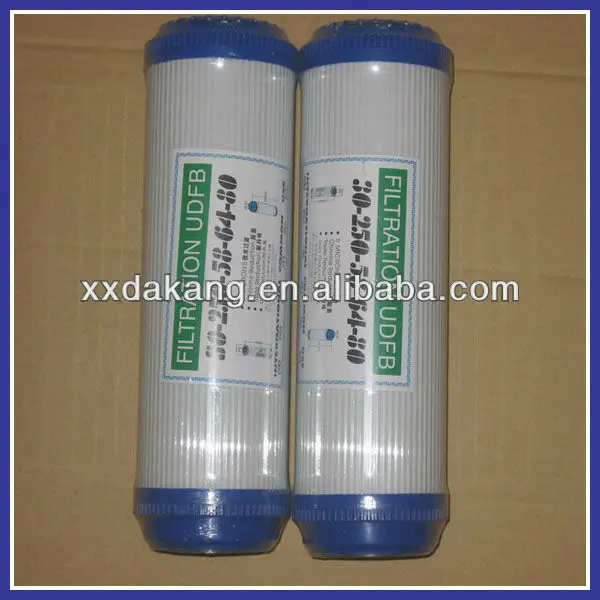 Work principle:
1.The inner most of filter element is PP skeleton use it to strengthen compression strength of filter element .
2.There are two layer PP fiber felt on the skeleton , can stop the more than 10 microns particles which brought out by the liquid through carbon core .
3. Outer sphere of carbon core have two layer PP superfine fiber felt , can stop the more than 10-20 microns particles which in liquid , so the filter element have double function – filtrating and cleansing .

Feature:
1. Activated carbon filter element is a new type deep layer filtrating product
2. Set adsorption , filtration , intercept , catalysis in one body .
3. Acid , alkali , salt and different kinds of organic solvent .
4. High filtrating precision , big flow , small differential pressure , high compression strength , big quantity accept dirt. Non-toxic , tasteless , non-secondary pollution .